Zadorspain Spanish language School in Alicante: Facilities
Zador Spanish language school in Alicante occupies the first floor of a restored historical building, situated right in the Alicante city centre.
Spanish school is at 14, AVENIDA DE LA CONSTITUCIÓN, near the corner of the Alfonso X el Sabio Street, between the Central Marketplace and the city's Principal Theatre.
The Spanish language centre is very well situated. It is 7-10 minutes on foot from the beach, in a very dynamic and commercial area of Alicante. The market, the theatre, the shops, cafés, restaurants and terraces create a lively atmosphere at any time of the day or night.
ZADOR Spanish school facilities in Alicante

The Spanish language school in Alicante has:

— An spacious reception area, where you will find a sofa, armchairs and easy chairs to relax during the breaks between your Spanish lessons. Here you will also find a great deal of tourist information about Alicante as well as bulletin boards with the activities offered by Zador Spanish language school or events in Alicante and surrounding area.

— An office where there will always be someone to inform you and give all the information and support you need.

— A computer area, where you can send and receive your emails.

— 7 classrooms, each decorated in a different style: the glazed tiles class-room, the bay window classroom, the glass window classroom... all pleasant and welcoming, with video and audio equipment, where you will certainly enjoy working and learning Spanish.

— Free Internet access is available on the computers at the resource centre.

— The school is equipped with central heating and air-conditioning.

— The Zador Alicante Spanish language school premises comply with all the legal requirements and are accessible to the handicapped.
Language School in Alicante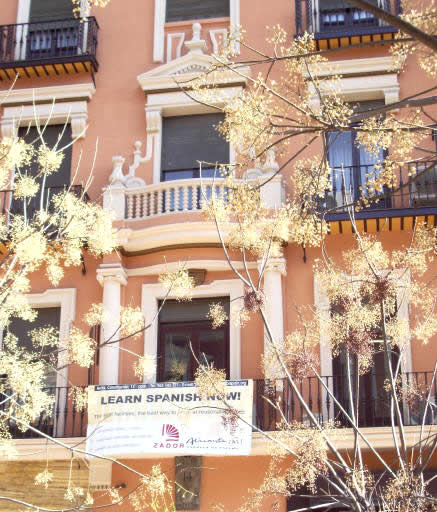 Learn Spanish, take part in an International Development Tennis Camp, make friends from different countries, enjoy the beach and have fun...
Spanish and international tennis camp Alicante 2018