Tennis Training Registration procedure
— Fill in the corresponding online registration form:
Registration for Tennis Camp for Juniors
Registration for Tennis Camp for kids
Registration for Tennis training for adults
— Consult how to do the payments and arrange to pay the deposit or the full amount. A € 300 deposit is required. The deposit will be deducted from the total price.
— If you pay by Bank Transfer, send by fax or by email the copy of payment. If you pay by credit card, fill the Form to Pay by Credit Card you will be provided, and send it by fax or email with a copy of the Card Holder's Passport and a copy of the credit card.
— Once the registration form and the copy of payment have been received, we will send you an email the Registration with an invoice for the total amount. Registration will not be valid unless we receive the copy of payment of the deposit or the total amount.
— One week before the beginning of your Spanish and Tennis Program, you will be provided with the information concerning your program.
— For Tennis Summer Camps total payment should be made at least 6 weeks before the beginning of the Program..
Learn Spanish, take part in an International Development Tennis Program, make friends from different countries, enjoy the beach and have fun...



TENNIS camp for teenagers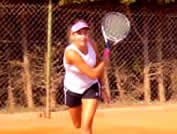 TENNIS camp for kids


TENNIS lessons for adults